Living Here
Auckland, known as the "City of Sails" enjoys the vibrancy of an urban lifestyle alongside the tranquil settings of parks and beaches. With a population of 1.3 million people, Auckland has a bustling centre with activities galore, from international concerts and sporting events to cultural festivals and celebrations. Auckland is the largest Polynesian city in New Zealand with a dynamic mix of Maori (indigenous people of New Zealand), European, Pacific Island and Asian cultures.
Uniquely set between two harbours, amongst 11 extinct volcanoes and numerous islands in the Hauraki Gulf, Auckland offers dozens of beaches to enjoy within minutes of the city - or you can venture a little further afield to sail the harbour or explore the wild West Coast surf beaches. Whether you are looking for extreme adventure or a quiet morning coffee and a browse in the local market, there's always something to do in Auckland.
With a temperate climate and plenty of sunshine, Auckland enjoys long warm summers and relatively mild winters. Enjoy an outdoor lifestyle all year round with after work and weekend social and competitive sports clubs or build a deck and enjoy barbeques with your new friends!
Working Here
In New Zealand the country is divided into twenty regions or District Health Boards (DHB's). Each District Health Board is a separate employer and may have more than one hospital within in. You can see the DHBs across New Zealand below.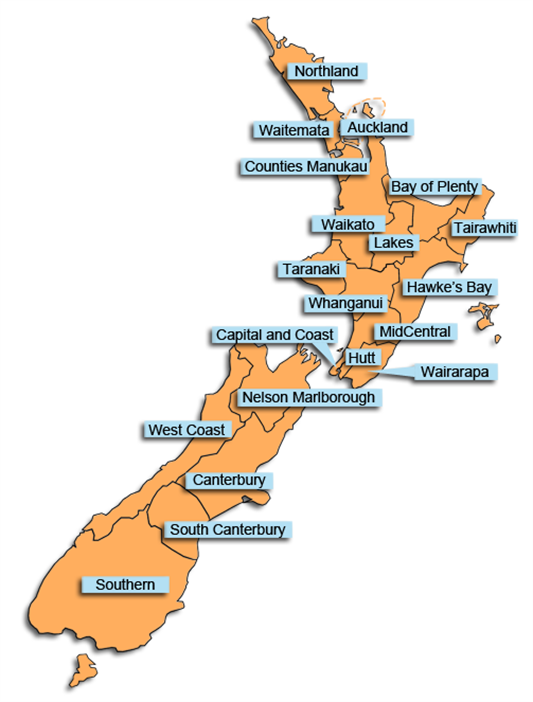 Our District Health boards
In Auckland there are three District Health Boards - Waitemata DHB in the north, Auckland DHB located centrally and Counties Manukau DHB in the south. Auckland is unique in that you apply to work as a House Officer or Registrar across the whole region. This means that when you gain a position here via our job listings you gain access to all the hospitals within the three DHB's – Waitemata, Auckland and Counties Manukau.
To view maps of the area each DHB covers, please click below.
Our Hospitals
For information about the hospitals within our region click here.
Getting around Auckland:
To get around the city and Aucklands suburbs check out Auckland Transport for details.

If you want to explore the wider Auckland region, get away from the city for the weekend or take a trip there's plenty of great rental car companies to choose from Jucy, Apex, Budget, Avis and Thrifty to name a few!
AA Travel is a great website to check out before you go travelling around Aotearoa!
Things to do in Auckland:
There is always something happening in Auckland whether it be Music or the Arts. There are many Gig Guides with great events! Here's a few to get you started: Under the Radar, Auckland Theatre company, NZ Ballet, NZ Orchestra, NZ Opera, Auckland City Council Events, Bfm Entertainment Guide.
For Auckland Tours, Sight seeing and things to do: Auckland Tourism and Events, Viator Experiences, Auckland Attractions, Auckland

Auckland has so many great places to eat and drink; with many award winning Cafe's and Restuarants to choose from its hard to decide where to go sometimes! Dine Out, Menu Mania, Metro, Eat Out, Menus are just a few sites that will help with your decision.
Auckland has amazing beaches and waterways; from the Manukau Harbour to the white sandy beaches of the Hauraki Gulf and the wild West Coast there is something for everyone! Guide to Auckland Beaches and Top 50 things to do in Auckland. 
Event Tickets: To purchase tickets for all the great events happening in Auckland check out these great sites! Ticketmaster, Ticketek, Eventfinder, Frontier Touring and Real Groovy are just a small selection.
Auckland is also a great City if you love the outdoors! From Hunua, Awhitu, Tawharanui, Wenderholm, Shakespeare to the Waitakere Ranges there is plenty to do to escape the City and so close! For Parks and recreation Department of Conservation has a great website. Otherwise the Auckland Council website also has all the information you will need about these parks.
Auckland in a nutshell; For everything you need to know about this awesome city!
No matter what the sport, there will be a club here for you in Auckland. From Cricket to Hockey, Netball, Rugby, Soccer, Ice Hockey, Equestrian, Archery to Chess there is something for every sports enthusiast.