Meet with us in the UK & Ireland!
The Auckland Doctors team will be interviewing and running career seminars in the UK from July 1st - July 12th.
We will be conducting interviews and running seminars in London, Manchester, Birmingham and Dublin.

Senior Clinicians will be available to meet with you on the following dates at the following locations*
| | |
| --- | --- |
| Location | Date |
| London | 1st July – 4th July |
| Dublin | 5th July – 7th July |
| Manchester | 8th July – 10th July |
| Birmingham | 11th July – 12th July |
We are keen to meet Junior Doctors at both House Officer and Registrar level.
Particular preference will be allocated to:
Junior Doctors in their FY2+ years or SHOs from Ireland.
Registrars in Psychiatry, Medicine, Surgery, O&G and Paediatrics.

Junior Doctors in their FY1 year and Interns from Ireland are also welcome to register for attendance at our seminars.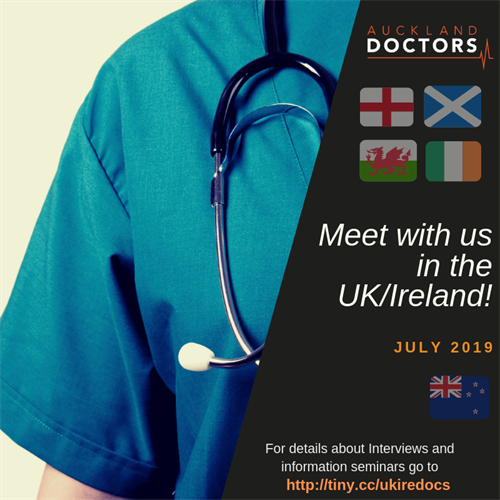 *Venues for interviews and seminars made available upon application.