Interview - Dr Sunita Azariah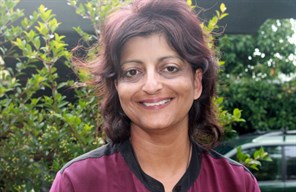 Can you please describe how you ended up in Sexual Health?
Was working in Family Planning after finishing up house officer jobs and was advised Auckland sexual health were looking for a  part-time medical officer to cover some clinics
Started doing 2 clinics a week in 2005 and really enjoyed the work and the people I was working with
Wasn't previously aware of the training scheme and that there was a stand-alone college-formerly the Australasian college of Venereologists (since the college was dissolved and we became a Chapter of the RACP)
When one of the registrars resigned I applied for his job and was accepted into the training scheme in 2006
Please can you describe some of the challenges in the job?
Major challenges are the lack of knowledge or recognition of the speciality from outside either by medical colleagues or policy makers. For example we have recently undergone a review of our service by Funding and planning and it was very clear that no-one there had any idea or concept of what sexual health medicine involves. We had to write a document explaining the rationale and evidence behind the importance of priority populations such as young people, men who have sex with men and Maori and Pacifika being able to have primary access to specialist services.
Consequently the skills and knowledge that we have acquired during our training are constantly undervalued by those outside the speciality and it is frequently stated that most of our work could easily be done in primary care.
There are no specified targets for sexual health so DHBs have no incentive to provide first-class clinical services in this area resulting in very fragmented provision of secondary services and marked regional differences in access to specialist sexual services within New Zealand
Please can you describe the rewards of the job?
The amazing people who work in this area of health
Being able to make people feel comfortable to talk about one of the most sensitive and private parts of their lives and to so often be able to relieve their anxieties and normalise a lot of what they are experiencing
The interesting conferences I get to attend and the fascinating scientific and ethical debates in sexual health medicine
The opportunity to research aspects of sexual health is particularly rewarding and I always try to find time to do some every year
The family-friendly working hours-no weekends or public holidays!
What would be your recommendation for those interested in the Sexual Heath Pathway?
The family-friendly working hours-no weekends or public holidays!
There is currently no workforce planning for sexual health in New Zealand so limited job opportunities at present
New Zealand has very few sexual health physicians per head of population and has been identified by health workforce New Zealand as an endangered specialty but as sexual health is not a current health target no  work has been done
Hopefully this will change in the future, Australia does advertise the occasional job
Why should a prospective candidate wish to train in Sexual Health?
Auckland has recently been re-accredited as a training centre for registrars in sexual health medicine
The feedback from the reviewers was very positive and they said they would highly recommend Auckland to anyone considering a career in sexual health medicine
Because we are a regional service trainees get exposed to the full range of sexual health related conditions including the opportunity to practice HIV medicine in the community
There is ample opportunity to attend conferences and courses and to engage in research and audit activities
Describe a typical day in Sexual Health
Fighting the Auckland traffic and arriving at whatever clinic you are rostered on for that day
Being greeted by your friendly co-workers-nurses and reception staff
Seeing your booked patients for the day with usually quite varied issues and negotiating their psychosexual concerns, sometimes becoming embroiled in relationship conflicts and occasionally having to deal with disruptive toddlers in the consult room because their mothers couldn't arrange childcare
Helping the nurses with clinical issues that may be beyond their scope of practice
Struggling to stay ahead of your email in-box
What are the types of cases you would typically see?
A big ranges of issues ranging from the worried well who may have done something they feel very guilty about, adolescents with social problems who are at high risk of STI's and unintended pregnancy, people presenting with a range of genital dermatological conditions, women with pelvic pain and dyspareunia, men with acute urethritis, seeing people with infectious syphilis, having to give someone a positive HIV result and manage them through that process including treatment-a well as screening and treating the bread and butter conditions such as chlamydia, bacterial vaginosis, candidiasis  and gonorrhoea
How many teaching hours do you have a week?
Currently Wednesday afternoons are set aside for teaching and professional development-we have our journal clubs, peer review and outside speakers then
There is also the opportunity for registrars to meet with their clinical supervisor to discuss any issues they may been having, discuss difficult cases and plan their training requirements
We also have monthly meetings with the Infectious Diseases department for case discussion and journal club
Registrars are encouraged to join the clinical advisory group which is a multi-disciplinary group that meets monthly to develop new clinical policy, update internal guidelines etc. This is a valuable training opportunity to implement evidence-based practice
What opportunities would you have in Sexual Health?
SMOs in our department have plenty of opportunity to attend conferences, post-graduate courses or to take University papers. We have a good in-service programme within our department. Research and audit is strongly encouraged. A challenge for the latter is our sub-optimal IT system but this will be upgraded in the near future
What interested you about this specialty?
Having an opportunity to work in an under-valued clinical area and to be an advocate for the patients who often cannot get access to quality sexual health care
The work is varied and interesting and challenging at times
The people who you work with tend to be exceptional in many ways
What do you enjoy doing in your spare time for leisure activities?
I love spending time with my family and friends- I have two daughters who are growing up fast
I enjoy music and play the guitar when I can grab a moment
I also love horses and ride regularly and take my daughters and their ponies to shows around the Auckland region-this gives me an opportunity to get out of the city