Interview - Dr Dana Tipene-Hook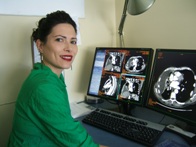 Radiology is a dynamic, rewarding and interesting speciality to train in.
Dana believes one of the advantages of the Auckland training scheme is the quick two month rotations across Auckland, Greenlane, Starship and National Women's Hospitals, providing good work exposure to the multiple subspecialties in Radiology. There's good access to all imaging modalities, including MRI, CT, nuclear medicine, ultrasound, mammography and fluoroscopy, and the work is always varied and exciting, ranging from imaging in Emergency medicine, Paediatrics, Obstetrics and Gynaecology, Neurosurgical, General Medical / Surgical, Oncology, ORL or Cardiovascular.
On-call can be demanding, with long days 1630-2200hrs, and equally, weekends and nights can be busy too, but after-hours work is often interesting and in most cases, supportive senior staff are just a phone call away.
Regular, protected teaching sessions and lectures occur every Tuesday 8.30 - noon, and there is additional teaching most afternoons.
Junior radiology registrars participate in teaching at Auckland School of Medicine, taking second and third year medical students through Anatomy - which provides the perfect learning opportunity and preparation for the part I exams.
All in all, Radiology in the Auckland region is a wonderful speciality to train in, and Dana would encourage anyone to go for it!