Interview - Dr Gary McAuliffe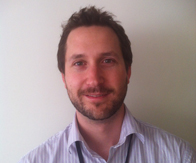 I am a microbiology trainee within the Auckland regional training scheme where there are registrar positions at both Auckland City hospital (LabPlus) and Middlemore hospital. The type of work that a trainee does varies a lot between hospitals, which means that experience of more than one laboratory is essential to get a good grounding in the different aspects of microbiology.
A typical day at Middlemore laboratory starts at 8 am and usually involves fielding questions from laboratory staff about the clinical relevance of bacteria, and how much work up may be required for a sample. We also liaise with doctors and nurses to discuss results, antibiotic management, and the best tests to use to diagnose specific diseases.
There are 3 plate round meetings a week with infectious diseases to discuss positive microbiology from sterile sites, and once a week a joint ward round of these patients.
Though this may vary a lot between hospitals, at Middlemore the service component of the job is much less than the educational aspects- approximately 3 hours a week are spent preparing for the plate rounds. There are also several meetings to attend, with the infection control and infectious disease teams.
The remainder of each day is spent gaining bench experience or exploring your own interests by undertaking experiments and projects on the benches. I have even spent a day at Auckland Regional Public Health Service seeing how they deal with infectious disease notifications. There is plenty of time to read around interesting cases, and study for exams. Consultant led teaching is available for an hour each week. In addition to this, the registrars organise microbiology teaching at Labplus each week, and fortnightly joint sessions with ID trainees at Auckland City hospital. The registrar presents at ID-Microbiology and infection control journal club.
I think that Microbiology is a great speciality, but really had little idea about what a trainee did before I started doing it, and had never seen a microbiology position specifically advertised as an available option. I had always been interested in infections and tropical medicine during my 8 years of clinical medicine, and working in microbiology exposes you to all of this on a frequent basis. I am also interested in the techniques- as broadly different as microscopy and exciting new developments in molecular diagnostics. I particularly like the living nature of the department- interesting smells, bacteria growing in incubators, and how despite the new technologies you still need a human to make sense of what it all means. In all the laboratories I have worked you feel part of a close team, with experienced and knowledgeable scientists, the clinical microbiologists, infection control and infectious diseases all working together.
In my current position there is no after-hours call, which makes life very pleasant. My leisure time is spent with my family, exploring Auckland's beaches, and changing nappies.