Interview - Dr Chris Hills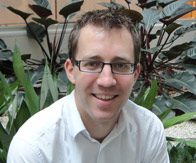 Please describe your typical day
I am doing Anatomical Pathology, also known as Surgical Pathology or Histopathology. This involves the processing, examination and diagnosis of biopsy and surgical resection specimens. My typical day involves a mixture of 'cut up' and reporting. Cut-up involves measuring, describing and sectioning the specimens then placing appropriate sections in cassettes for processing. Reporting involves looking at both histology and cytology slides, writing reports and reaching a diagnosis. Add in a couple of clinical meetings and teaching and that is my week. There is also frequent interaction with the other pathology specialties with difficult cases, particularly molecular genetics, haematology and microbiology.
Despite being heavily involved with patients' diagnoses, there is minimal face-to-face patient interaction within anatomical pathology. Occasionally we perform fine needle aspirates on patients but the majority of time is spent in the lab, with 75% of my time spent at the microscope reporting and 25% doing cut.

What are the types of cases you typically see?
Over the five-year training scheme, I rotate between the three main public hospitals and a private lab in Auckland. Each hospital specialises in different areas so throughout the training we get exposure to the full gamut of surgical pathology specimens, both benign and malignant. Most of the workload involves biopsies and resections from the gastrointestinal, breast, gynaecology and skin organ systems but on a daily basis I also see specimens from the rest of the body including neurosurgical, head and neck, cardiothoracic, thyroid and endocrine, urology, haematolymphoid and bone and soft tissue cases.
On top of the general runs there are dedicated specialty runs throughout the five years: cytology, Forensic Pathology and Paediatrics. Cytology includes exposure to both gynaecological and non-gynaecological smears, aspirates and fluids, and also performing FNAs. The Forensics run involves autopsy experience and the Paediatrics run involves experience with diseases that affect patients under 16 years.

What do you enjoy about working in Pathology?
There are three main things I enjoy about my job. Firstly it is the problem solving nature of the work. Each specimen, when it arrives the lab, is like an unsolved mystery and it is our job to solve it. Sometimes it is an easy case but other times it requires gumption, observation, deduction and a sprinkling of clinical correlation to get to the bottom of things. I am a scientist at heart, having enjoyed anatomy, genetics and histology at medical school, and I get to combine all of these things on a daily basis.
Secondly I enjoy the permanence of pathology. I never really enjoyed the constant pressure of clinical medicine, with pagers, alarms and deteriorating patients and where hesitation can be costly. There is none of that in Pathology - in fact rushing to a diagnosis in pathology is much more likely to result in an incorrect diagnosis. Once tissue is on a slide it is not going anywhere quickly and that allows one to deliberate on a difficult case without the immediate risk of a clinical emergency. And that suits me to a tee.
And thirdly, the hours. Unlike most other specialties, Anatomical Pathology is pretty much a 'business hours' specialty. After years of clinical medicine it was wonderful to be able to have evenings, weekends and nights to myself, rather than working away at the coalface on the ward. Of course sometimes it gets very busy and I may have to stay an hour or two longer to get the work done but I'd take that any day over another set of nights.
What do you enjoy about working in the Auckland Region?
I enjoy the range of cases we see across the Auckland region. Given the size of the city of Auckland, the number and scope of cases seen across the three DHBs is unmatched throughout the country. Both Auckland and Middlemore Hospitals are specialty referral centres for the upper North Island and in some cases for the whole country and therefore we get exposure to not only very interesting cases from around the country but also get to work closely with some of the leading subspecialist pathologists in the country.
The other big plus of working in Auckland is the strong collegiality within the department. There are 16 registrars in Auckland and we spend a lot of time together. As a group we get on exceptionally well, with more laughter and support than I have ever experienced anywhere else in the hospital. As a registrar I work closely with the consultants and we get treated as almost equals as opposed to the more hierarchical approach seen in other specialties.
Our College (RCPA) mandates that a trainee spends a maximum of 4 years at one center, and since Auckland has 3 training centers, our trainees can stay within the Auckland Region for their entire training. So one can confidently buy a house and settle down in one place without fear of being moved around the country.
And Auckland is an awesome city to work and live in. The cosmopolitan nature, the shopping, the restaurants, the beaches, the islands of the Hauraki Gulf, the proximity of Coromandel and Northland. It has all the best parts of a big international city but still manages to retain its classic Kiwi charm and friendliness.

How many teaching opportunities are provided to Pathology RMOs?
All the registrars meet up on Friday mornings for 4 hours of protected teaching. Teaching is provided by the pathologists, other disciplines within the lab and invited clinicians. We also have 1 to 2 hours of formal teaching each week at each DHB and a journal club. And given that we work closely with the consultants, there is abundant informal teaching through 'double-heading' and discussion of interesting cases.
The one downside of Anatomical Pathology is that it does have some tough exams, including the Basic Pathological Sciences exam in first year, Part I in third year and Part II split across 4th and 5th year. Both the Part I and part II exams require about a year of study so you have to enjoy spending time chained to a desk, however the study is really helpful for the day to day job and not as arduous as it sounds. And Auckland trainees have a much higher pass rate than the Australasian average, so all the teaching opportunities seem to be working.
As part of the training there is also accessibility to a cytology weekend, a national pathology conference and two major conferences in Australia each year, all of which are funded as part of the training scheme.
What do you enjoy doing in your spare time for leisure activities?
As I said above, one of the perks of pathology is free evenings and weekends and I like to fill these up with tennis, golf, running and cycling, travelling to the Coromandel Peninsula, listening to music and drinking good wine with good friends. And the occasional pub quiz, just to keep up my general knowledge.

I personally think that Pathology is far and away the best specialty in the hospital and I look forward to going to work each day. If you want to find out more, I recommend coming into the department and having a chat to the registrars and consultants to see if it is for you.